Finally! After lots and lots of waiting, Google+ is finally rolling out vanity URLs to its users.  There are a few conditions that accounts have to meet in order to have access to the Google+ custom URL feature.
Account must have at least 10 followers
Account must have a profile photo
Account must be at least 30 days old
How to claim a Google+ Vanity URL:
First, login into your Google+ account. Go to your business page profile. If you qualify you'll see the following prompt at the top of the page.

Click on the "Get URL" button. You'll then be taken to a screen that looks like this: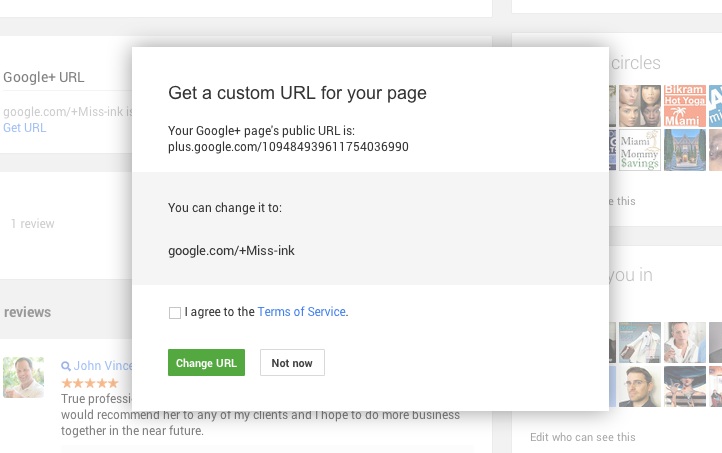 After you read the terms of service, click that you agree. If you wish to move forward, click the "Change URL" button.  Note that another prompt will pop up confirming that you want to change your URL.  You cannot change your custom Google+ page URL once you set it, so be sure this is what you want to do.
What is a Vanity URL?
A vanity URL is a custom URL address that includes information about your company.  For example, in the image above, Google+ showed me that my URL was plus.google.com/InsertABunchOfImpossibleToRememberNumbersHere. Notice that after I claimed my URL, it is now google.com/+miss-ink so now the Google+ URL is branded to match the company.
Why should I claim a Vanity URL?
There are many reasons why you should claim a custom URL.  Here are a few:
Claim your vanity URL before someone else grabs your name. Once a vanity URL is claimed, no one else can claim it.
Make it easy to share links!  If a URL is branded with your company or service, it's a lot easier to remember and share.
Help the search engines, and the people searching for your company or service, find you!
It's similar to claiming a website domain that matches your company name or service.  It just makes sense!
Have more social media marketing questions?  Contact us here.